I'm always on the lookout for easy snacks for my girls when we are out and about. During the summer, we are constantly going from one thing to the next! Most days we pack up a snack or even lunch and go to the park, splash pad, zoo, anywhere! Since we are so busy, and my toddlers are toddlers, it's hard to please them with snacks. I get so tired of giving them graham crackers and fruit snacks that have who knows what in them!!
I was thrilled to learn about Sprout's toddler & baby snacks! We tried out the Fruit & Veggie Crispy Chews and Fruity Yogurt Bites in a variety of flavors and my girls LOVED them! They come in individual little packs that are so easy to just throw in my bag and have on me at all times. If your kids are like mine, they are asking for a snack every 12 seconds so it's great to have these on hand!!
My girls thought these were delicious PLUS they are good for them!! They especially loved the yogurt bites (surprise, surprise). I love that they come in an easy package that my little ones can hold on to while playing and still get a healthy snack in them! Warning: if mixed with a splash pad they will melt all over your toddler. Don't ask me how I know that ;)
One lucky reader will win a prize pack of snacks to try out!! Be sure and enter below, it's quick and easy! Here's where to find some Sprout snacks also! I know you will love these healthy, yummy snacks as much as we do!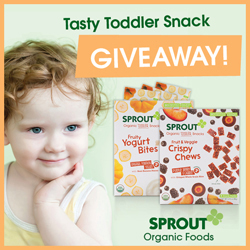 I'm required to disclose a relationship between our site and Sprout Foods. I was provided the snacks packs to try, and the opinions are all my own! Check out the new Sprout Foods website at www.sproutorganicfoods.com.